Congratulations Grant Ranch Destination Imagination!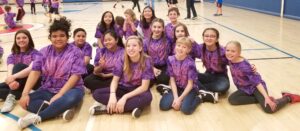 Congratulations to our Destination Imagination teams as they competed at States this weekend! All of the teams had so much fun displaying their creative juices for everyone to see. There were some nerves along the way but every single team member rose to the occasion and stood in front of an audience and performed. There was a lot of self regulation of emotions happening!
The 5th grade team, The Intelligent Grizzlies, had a tale that involved grooming a nervous cat. They were so nervous before they stepped on stage and, yet, they did! What an amazing showing of perseverance. They finished their season earning 10th place in their elementary division. Their goal was to get to States and they DID IT! YES!
The 6/8 team, La Royal Chimichangas, were all brand new to DI. They had no idea what to expect this year and dealt with a lot of changes on their team. However, you would have never known that after watching them. They were super funny with their tale of the figureheads driving across country! Their middle school division was super competitive yet they were able to tie for 9th place!
The 6th grade team, The Prickly Pineapples, dealt with a challenge master change and you would have never known it existed. They had a tale of their figureheads jumping through hoops. Imagine trying to get Lady Liberty to go through a hoop! They earned 4th place in the middle school division which qualifies them for GLOBAL'S! Less than 1.5 points separated 3rd and 4th place. Colorado is one of the most competitive markets for Destination Imagination with over 800 teams competing throughout the state during the year. Due to our size and competitiveness, the top four teams at States are qualified for Global's. The Prickly's reached their goal!